Our unique offset or Industrial Co-orporation model, lets you explore multiple roads to success.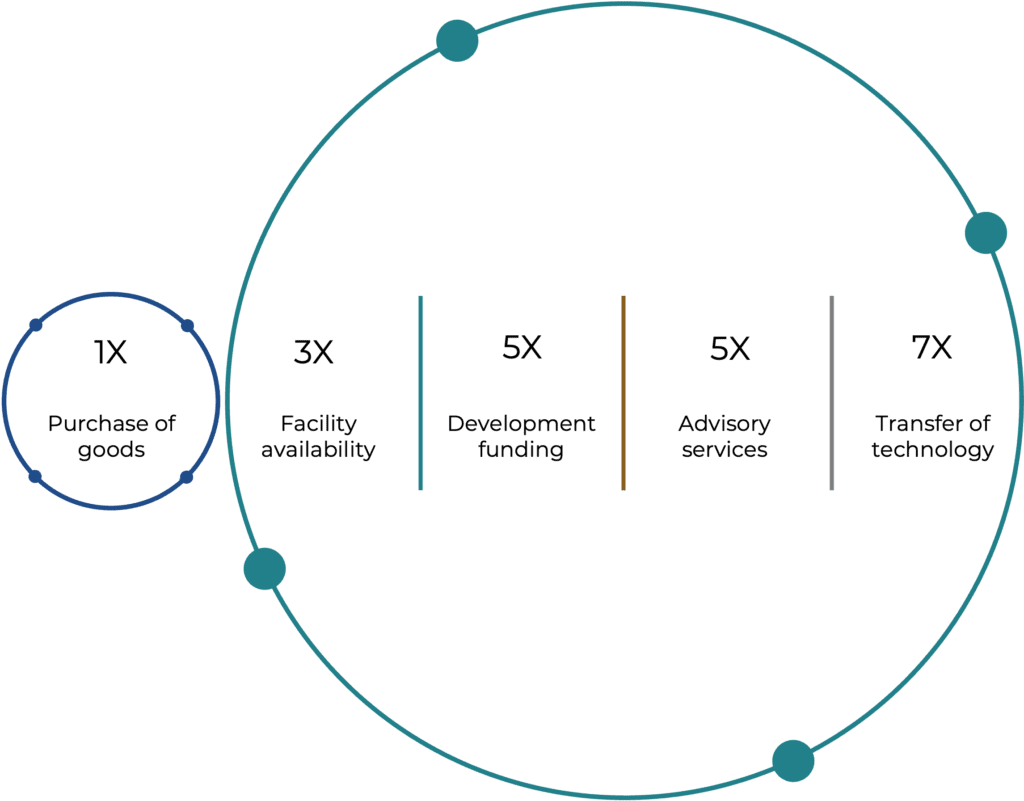 Offset or Industrial Co-oporation (ICC) management
In Denmark, ICC can be done in two ways. 1:1 purchases has the benefit of minimal efforts from both parties with clear information on deliveries, but holds high cost and minimal write-off. Development projects are more complex and require more effort, but holds a massive potential for large multipliers and write-off. – Janus Bendix Engmann, Senior Consultant at Normark Defence
We are your trusted advisor and business partner through the entire offset management process. This includes all coordination with the public administration, formulation of pre-approval applications and identification and engagement of suitable business partners within the Danish industry and high-tech universities.  
In 2022, Normark Defence developed a completely new model for settling Industrial Co-operation Contracts (ICC) or offset obligations. Our model enables and use research of original technology at a high Technology Readiness Level (TRL) level from the Danish universities. The IP is placed in independent companies, ensuring free movement of technology, products, and services to and from the business, easier transactions, and a futureproof setup.
Other business functions required to fully enable development and sales, are funnelled from our parent company, creating truly professional and efficient progress. The constellation allows our partnership to incorporate business Ph.D.'s, pick and choose between thousands of technologies, while letting us, focus on commercializing the project and bring tangible value to the businesses.
Our expertise includes a deep understanding of the multiplication factors related to settling ICC. We always set out to acchive a minimum reduction of the ICC-debt by a factor of 1:5 in addition to any follow-up sales with a factor of 1:1.
Our offset management model is unique – contact us to find out more.
Want to learn more about the National Defence Industrial Strategy?
The new Defence Industrial Strategy was launched in the summer of 2021. The strategy was written collaboratively by the Ministry of Industry, Business and Financial Affairs, the Ministry of Defence, the Ministry of Foreign Affairs and the Ministry of Higher Education and Science.
The Government's National Defence Industrial Strategy sets the framework conditions for the Danish defence industry to be able to support the Danish Armed Forces in the best possible way.
The Danish defence industry is essential for Denmark's national security and for our joint efforts with allies and partners. The defence industry is instrumental in ensuring that the Danish Armed Forces have the right tools for responding to threats against Denmark and a close co-operation with the defence industry is essential for the Danish Armed Forces to have access to material of the highest quality.
The strategy focuses on a range of new technology areas that are becoming increasingly important. This includes space, energy optimisation, artificial intelligence and cyber. Furthermore, the strategy focuses on how to integrate the defence industry into the wider existing business promotion and innovation ecosystems to increase co-operation with the civilian industry and to facilitate the creation of new high-tech, sustainable and innovative products.
Simultaneously, the strategy provides the basis for conducting measures to ensure a defence industrial capacity in Denmark to protect Denmark's essential security interests when the Danish Armed Forces procure defence material or defence services (e.g., industrial co-operation). Industrial co-operation is a central tool for ensuring the Danish security of supply, as well as Danish companies' access to the international defence market.
Read more about the 2021 administrative guidelines for measures to ensure a defence industrial capacity in Denmark.
What is Industrial Co-operation in Denmark?
Essential national security interests
The sovereignty, autonomy and security of Denmark are ultimately the responsibility of the kingdom itself. This presupposes that Denmark has reliable access to required defence equipment in order to comprehend, assess and respond to perceived threats and hostile actions.
In this context, the competences and capabilities of Danish companies play a crucial role in protecting Denmark's essential national security interests by contributing to the Danish Armed Forces' operations, maintaining the Danish Armed Forces' equipment and ensuring that Denmark can act as a credible ally and partner in the context of international peace and security cooperation.
If an acquisition of defence material or services is covered by a requirement for industrial co-operation, the foreign supplier must sign an Industrial Co-operation Contract (ICC) with the Danish Business Authority. The ICC must be signed before the foreign supplier can sign a contract with the Danish Defence Acquisition and Logistics Organisation (DALO). Ref.: The Danish Business Authority 
The Industrial Cooperation rules are a set of regulations that require foreign defence contractors to engage in certain activities with Danish companies when bidding on defence contracts.
The rules not only serve the purpose of ensuring that Danish companies benefit from defence contracts, but they also have broader economic benefits. The rules contribute to the Danish economy, including by creating jobs, fostering innovation, and promoting exports.
Our job, is to navigate the challenges. Including concerns about their complexity and impact on competition. Ultimately, we will provide the solutions to these challenges, including greater transparency, oversight and fulfilment of your scope. We will assist with:
Article 346, determines that we disregard some of the rules regarding public tenders, and let national security interest take precedence.
We offer
Negotiation
Handling of current projects